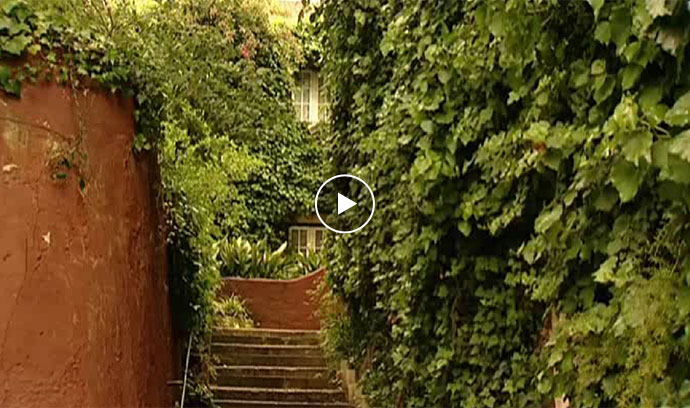 Nooteboom as a novelist
—

Nooteboom's debut novel, Philip en de anderen (Philip and the Others), came out in 1955. He was twenty-two years old at the time. Where did the inspiration come from?

 

'On my first big hitchhiking trip, I met a French girl, who metamorphosed into a Chinese girl in my novel. The protagonist goes looking for her, all over Europe. I kept her letters, but never reread them; a certain hesitation holds me back. We lost touch; I don't know whether she's even still alive. I visited her home in Luxembourg; her father was the director of a radio station. I still remember very well how the man, when he came home, would give his wife one of those French-style kisses on her shoulder. Bonsoir madame, he would say.'




The German philosopher Rüdiger Safranski wrote an afterword for Philip en de anderen in which he contrasted the romance of the book with the detached irony of Nooteboom's later work. Nooteboom himself, however, says that he can still easily recognise himself in the young man who wrote the novel: 'Someone who comes up with the image of a room full of pianos with one person playing is related to someone who writes about a man who goes to bed in Amsterdam and wakes up in Lisbon. In my speech in Berlin, I said that I have not taken the path of cynicism and sarcasm. I am very aware of that. I may well be cynical and sarcastic, but not as a general attitude to life.'




In a sense, he is still the romantic of old. 'Of course you become weathered. The world's very good at that. Everyone starts with talent; everyone has a candle and it shines. Most people let it go out or other people blow it out for them. It starts early. A child draws a house with a sun that's far too big. The proportions are all wrong, says the adult. You've already started the demolition work. Or a child tells a story that's not true. You're lying, says an adult. No, the child has made it up. You have to keep that candle alight, in every wind, in every storm. That's why so many of your actions in the real world are mimicry, because you hold on to that part.'




Has writing become easier for Nooteboom over the years than it was at the beginning?




'Quite the opposite. Whenever you become absorbed in a new fictional dimension, there's always a barrier to overcome. For me, writing a story is just a pretext for writing itself. The story isn't what interests me; what I'm interested in is the writing. Discovering things. A story is a hook to hang your writing on. If you've been doing that very intensely, as I did in Allerzielen (All Souls' Day), you don't feel like coming up with new characters straightaway. 'That's why I find writers like Vestdijk so unfathomable. I was fascinated by his books as a boy, but now I look in amazement at the sheer volume. That's impossible for me. In that sense perhaps I'm not a real novelist.'




'I have always had difficulty writing. I've always been saved by an assignment. Not that someone has to make me work, because I'm always working. I wrote Mokusei! because Avenue would only let me go to Japan for a novella, not for a travel story. Het volgende verhaal (The Following Story) was the Book Week gift, also a commissioned piece, and what a commission it was. Rituelen was not commissioned, even though my publisher Theo Sontrop said he'd break my legs if I didn't produce a novel. Allerzielen wanted to be written. Perhaps that makes them my two most important books, although that's something you never know yourself of course. A commission isn't the worst thing that can happen to a writer.'




From: Margot Dijkgraaf, Nooteboom en de anderen. Amsterdam, De Bezige Bij, 2009




Novels
—

Philip en de anderen. Novel. Querido, Amsterdam 1955. New edition 2009 (10th ed.) with an afterword by Rüdiger Safranski, De Bezige Bij, Amsterdam.




De ridder is gestorven. Novel. Querido, Amsterdam 1963. New edition 2009 (7th ed.) with a preface by Connie Palmen, De Bezige Bij, Amsterdam.




Rituelen. Novel. De Arbeiderspers, Amsterdam 1980. New edition 2009 (23th ed.) with a preface by A.S. Byatt, De Bezige Bij, Amsterdam.




In Nederland. Novel. De Arbeiderspers, Amsterdam 1984. [Later editions: In de bergen van Nederland].




Het volgende verhaal. Novel. CPNB/De Arbeiderspers, Amsterdam 1991.




Allerzielen. Novel. Atlas, Amsterdam 1998. New edition 2009 with an afterword by Lázlo Földényi, De Bezige Bij, Amsterdam.




Paradijs verloren. Novel. Atlas, Amsterdam 2004.